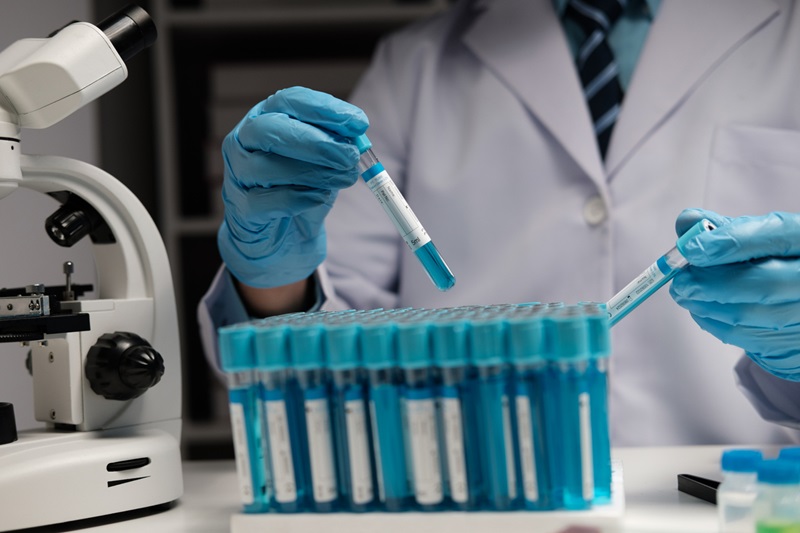 Why The Hospital of the Future Will Be More Dependent on Its Clinical Laboratory
Are we truly maximizing the potential value of our hospital's clinical laboratories?
As healthcare delivery transitions to ambulatory care settings and reimbursement models change, we must rethink our strategies for efficient and effective care delivery and the role of the clinical laboratory in this new environment. Because of these transitions, the hospital's Case Mix Index (CMI)—a measure of the patient population's overall complexity and resource needs—continues to increase.
A recent review of a random sample of thirty acute care independent hospitals illustrated that their CMI increased from 1.7643 to 1.9178 between 2018 and 2022, respectively. This CMI difference is statistically significant at p ≤ .004. These years were chosen for comparison because 2022 hospital admissions were approaching 2018 levels (down only 5% – AHA data), and COVID admissions represented only 0.48% of total 2022 hospital admissions (COVID-Net – CDC data).
There is no suggestion that the increasing CMI will abate any time soon. The growing need for care in an aging population will likely continue to drive these increases, and the continued shift of lower complexity care to an outpatient setting will also contribute to that trend. If hospitals are to manage the aggregate costs of in-patient care effectively, the hospital laboratory must expand the breadth of its in-house testing (test menu) and its service levels (particularly the frequency with which testing is done).
Expansion of the clinical laboratory test menu and service levels will require incremental resources.
Such budgetary increases are often met with skepticism by hospital leadership if they do not take the opportunity costs associated with a wrong decision into account. If, however, these decisions are viewed more broadly and strategic decisions are made to fully utilize the lab's sunk costs and excess capacity in its existing plant and equipment to either expand a current outreach program or initiate a new one, the unit costs (a more important metric than the lab's budget) associated with the expanded testing will decrease, patient and provider service levels will increase, and the hospital will experience a significant positive financial impact from the strategy. In addition, and commonly of greater financial impact, is the impact of the enhanced service delivery from this strategic decision on reducing the hospital's episode of care costs. To make such investments, senior leadership must understand the ways in which the hospital clinical laboratory can impact episode of care costs and put in place systems that allow them to have a window into these cross-silo benefits concerning clinical laboratory investment decisions.
Jeffery Myers, M.D., Vice Chair for Clinical Affairs and Quality and former Medical Director of MLabs, in the Department of Laboratory Medicine and Pathology at the University of Michigan recently described his experience related to the expansion of clinical laboratory service by saying:
"I have observed the transformational power of MLabs to build and nurture all Michigan Medicine missions while setting the stage for improved performance at an enterprise level, positively impacting patient care. This includes our educational mission, where the consultations our residents are exposed to give them a much richer experience than they would have otherwise. It includes our research mission, where the development of new tests serves as a means to further our faculty research activities. And most importantly, it has a positive impact for our department to support the care of patients who seek care at the University of Michigan."
Consistent with Dr. Myers' comments, this strategy not only improves service levels, reducing the hospital's length of stay despite an increasing CMI, but also allows the clinical laboratory to grow a profitable community integration information service business, which also helps to position the hospital for success in new reimbursement models like value-based care.
What empirical evidence is there to show the positive impact of this approach on a hospital's financial performance?
Based on a review of 232 independent hospitals with 150 or more staffed acute care beds with outreach programs, 80% are not capturing their full market opportunity compared to their peers. Therefore, most hospitals/healthcare systems have an opportunity to grow their clinical laboratory outreach program.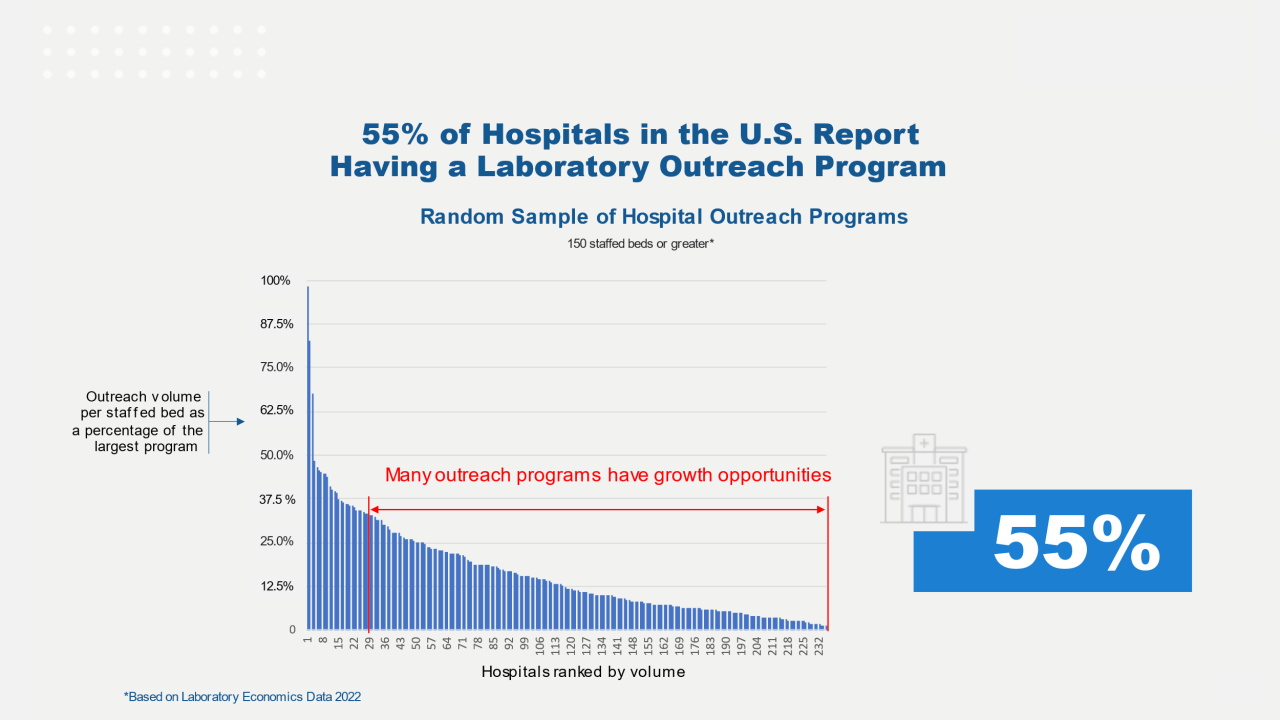 "Underperformance"
This situation is often due to a lack of appreciation for the opportunities that the hospital laboratory outreach programs represent. This lack of understanding frequently results in suboptimal institutional support and oversight of clinical laboratory outreach activities which produces less than optimal growth. These clinical laboratory outreach programs must be governed and supported like market-focused competitive service programs to succeed.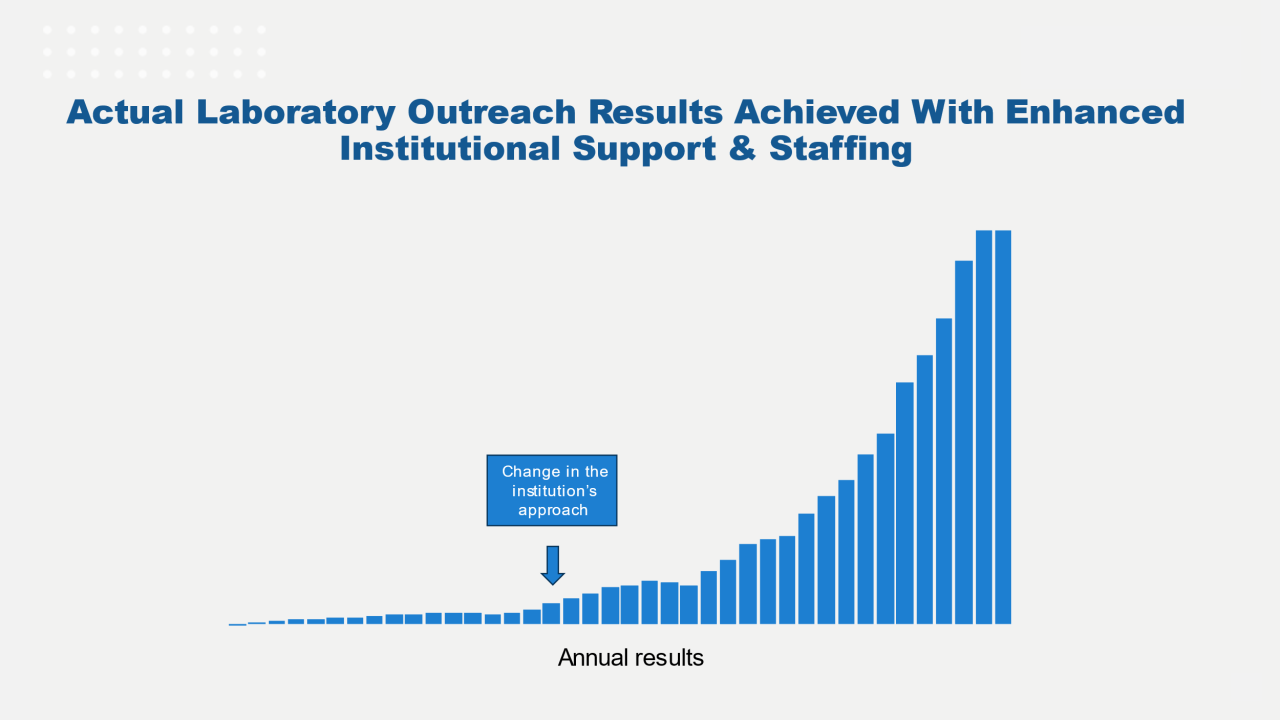 The above chart reflects an actual case study and demonstrates what can occur when these opportunities are institutionally recognized, supported, and governed appropriately.
Therefore, there appears to be a significant growth opportunity for over 80% of the acute care hospitals in the United States.
If hospital leadership decides to grow their clinical laboratory outreach program, what can they expect from the investment in addition to profitable growth and an enhanced ability to keep pace with the increasing CMI? To answer that question, we reviewed two well-matched hospital samples from the 232 hospitals (the number of discharges/hospital and CMIs between the two samples are nearly identical and not statistically different), comparing 25 hospitals from the higher performance portion of the chart with 25 hospitals on the lower performance portion of the chart, the analysis shows that the hospitals with high-functioning outreach programs experience lower hospital LOS, averaging greater than a day. The LOS difference is statistically significant at p ≤ .001.
To ensure that your hospital is not leaving money and hospital length-of-stay efficiencies on the table in these challenging times, the following steps should be taken:
Recognize the strategic importance of the clinical laboratory.
Evaluate current laboratory utilization and potential for expansion, leveraging existing plant and equipment.
Analyze the market for laboratory outreach programs in the hospital's primary service area to determine the opportunity.
Construct an objective business case for expanding in-house laboratory testing and outreach programs to explore the feasibility and profitability of starting or expanding the program.
If the business case opportunity is attractive, secure necessary institutional support and resources.
Monitor and evaluate the impact of expanded laboratory services on patient care and provider service levels, hospital costs and LOS, and program profitability.
Erik Swanson, senior vice president of data and analytics with Kaufman Hall, recently said in Beckers. "It's time for hospital and health system leaders to begin developing and implementing a strategy for long-term sustainability, including expanding their outpatient footprint and re-evaluating where finite resources are being utilized."
Building upon Erik Swanson's comment, the hospital and laboratory leadership should work together to build a business case leveraging a process like the one outlined below.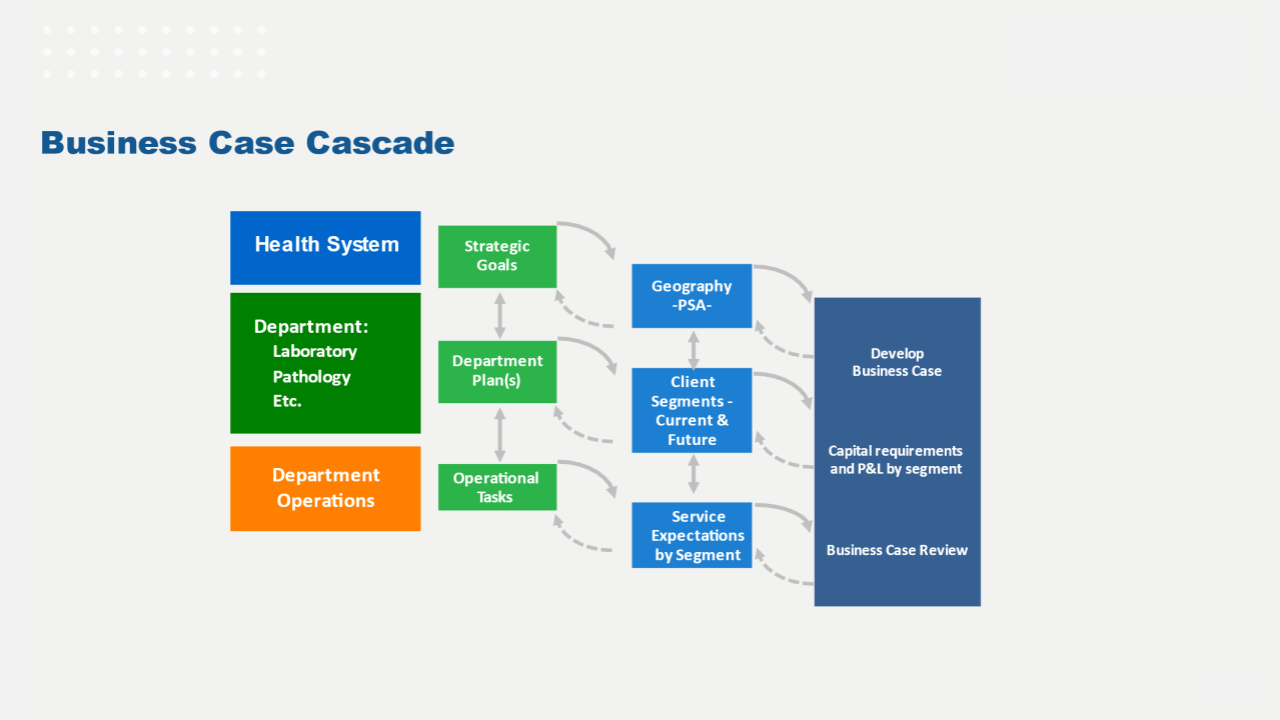 By following these steps, the hospital team can improve its understanding of the value of the clinical laboratory while reviewing hospital-specific opportunities to better serve inpatients, outpatients, and providers. Such an effort will support the hospital's mission in an era of value-based care. The future is here, and it's more dependent upon clinical laboratories than ever before. Fortunately, there are significant opportunities readily available to be explored.
Download the full white paper.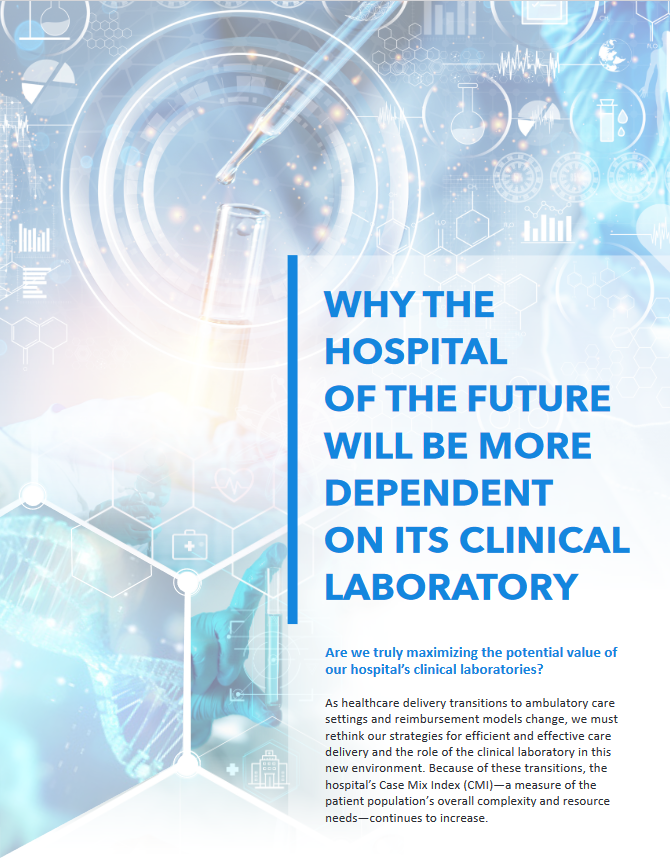 Latest posts by Keith Laughman & Les Wold M.D.
(see all)